Sport and PE at St Mary's

Please click on the links below to read the information on PE at St Mary's from the past three years.
Here is our information on how we have spent our funding this year.
Sports Funding and Provision
PE Curriculum
As part of our PE curriculum, St Mary's is now using the 'Real PE' and 'Real Gym' schemes of work, funded by our Sport Premium Funding, which promotes physical literacy in the children. These schemes promote high quality physical education learning and will ensure continuity and progression in our teaching of the subject. To find out more about 'Real PE', please click here.
Sporting Leadership at St Mary's
At St Mary's, children have the opportunity to be leaders and role models for the school community. Within this, we have Year 6 pupils who are Sports Council Ambassadors and Healthy School Ambassadors, where they are also joined by other pupils from Ks2 on their Great 8 Councils. The Year 5 pupils are also Huff and Puff Leaders where they run games and activities on our Ks1 and KS2 playground at break times and lunchtimes. The Year 5 & 6 pupils also apply their skills by leading Sports Day for the KS1 pupils every year.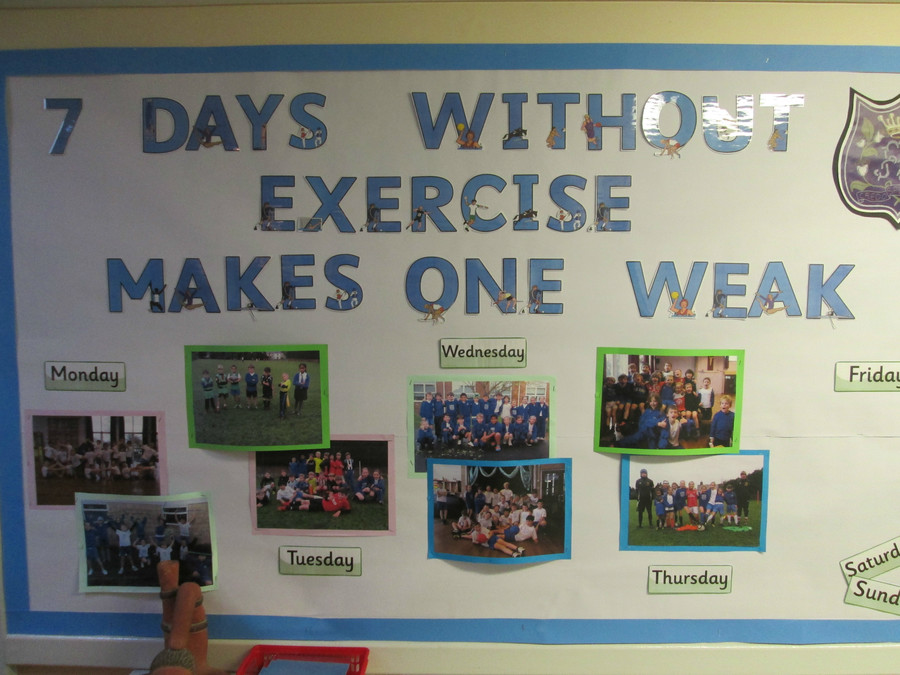 Sporting Clubs at St Mary's
We have a variety of after school and lunchtime sports clubs for children from Year 1 to Year 6. These change on a regular basis. For a full list of clubs provided this year, please click on the links below. We are very proud to be able to offer the majority of clubs on a free basis. All children from Y1-Y4 are able to select one 6 week club which they will be able to attend free of charge. All of these clubs are run by highly qualified and motivated coaches. Should the club continue beyond this, a fee may be applicable. Y5&6 children are able to attend all clubs free of charge as these are run by teachers.
Please be aware that some changes have taken place to the Year 5/6 clubs. Netball is now on a Monday lunchtime, Hockey is a Tuesday lunchtime and Girl's football is a Wednesday lunchtime. The permission letters reflect these changes.
Many of these clubs lead to participation as part of a sports team. For more information please see our Sports Teams page.
Chippenham Sports Partnership News
Newsletters ¦ Issue 10 ¦ Issue 8 ¦ Issue 7 ¦ Issue 6 ¦ Issue 5 ¦ Issue 4 ¦ Issue 3 ¦ Issue 2 ¦
PE information letter to parents [coming soon]
Below you will find permission letters for the majority of clubs run in the school. Many of our clubs are continuous throughout the year, and so you needn't bring back multiple permission slips. We only upload letters when they are required. Should you need a copy of a letter which is not available here, please speak to the school directly.
Autumn 1

Autumn 2

Spring 1 Jan 18

Spring 2

Summer 1

Summer 2

5/6 Dance

5/6 Hockey

6 Netball

1/2 Ball Sports

3/4 Kwik Cricket

5/6 Tag Rugby

3/4 Tennis

1/2 Gym

Girl's Football

Football for Fun

3/4 Gym

5/6 Football

3/4 Football

1/2 Tennis

Athletics

Netball

Cricket

1/2 Football

6 Netball

5 Netball

1/2 Football

3/4 Football

Gym

Multi-sports

Athletics

6 Netball

Dance

Tennis

5/6 Cricket

1/2 Football

3/4 Netball

5 Netball

1/2 Cricket

3/4 Football
Sporting Success at St Mary's
Please come into school and view our sports board to find out more information about any of the following.
Sports Day:
KS1 sports day was won St Andrew's
KS2 sports day was won by St Patrick's
Inter-house:
Reception: St Andrew's and St David's

Year 1: St George's

Year 2: St George's

Year 3/4 Tag: St George's

Year 3/4 Football: St George's

Year 3/4 Netball: St Andrew's

Year 3/4 Hockey: St Andrew's

Year 5/6 Tag: St Andrew's

Year 5/6 Football: St George's

Year 5/6 Netball: St Andrew's

Year 5/6 Hockey: St Patrick's

Overall Year 3/4: St Andrew's and St George's

Overall Year 5/6: St Andrew's
Festivals:
Chippenham Tag Rugby (2nd)
Chippenham Hockey (2nd)
Wiltshire Hockey (6th)
Corsham Going for Goals (1st)
Wiltshire Going for Goals (3rd)
Chippenham Kwik Cricket
Chippenham Netball (3rd)
Chippenham Quad Kids
Chippenham Tri-golf
Community Sports Club links:
Biddestone Cricket Club
Chippenham Cricket Club
Stanley Park
The Olympiad (trampolining and water polo)
Each year we award one boy and one girl from Year 6 as our stand-out role models for sport in the school. This year, the winners are...
Victor Ludorum: Ben H
Victorix Ludorum: Patsy T
In addition to this, our oldest children are able to participate in the 'Bikeability' scheme. Congratulations to the following children for passing the most recent course:
February Bikebility 2015:

Hattie A

Ruby B

Thea B

Thomas C

Charlie C

Amber D

Megan D

Conor D

Laura F

Aaron F

Harry H

Ben H

March Bikeabilty 2015:

Matilda H

Joe H

Maddie H

Emmanuel G

Jamie L

Maisie L

Clyde P

Fin P

Siddarth R

Jacob S

Peter S

Tom S
To see how we plan to build our Sport & PE provision in the future, please click here