News and Parent Information
This part of the school website aims to provide parents with the day to day information they need to know what is going on in school and also to support their children and the work of the school.
For the week ending Friday 12th February 2021
Dear Parents and Carers,
What a term it has been and with this, the last newsletter of the term, I wanted to say three "Thank Yous".
Firstly I wanted to say thank you and well done to all the children who have been working and learning from home. You have done an amazing job at keeping your focus, carrying on learning and having the resilience to log on each day for registration,group and class lessons. You should all be very proud of yourselves. My appreciation also goes to the "home working" parents who have not only juggled work but also supported your children's daily activities.
My second "Thank You" is to the critical workers in our school community who have kept things running and ensured that hospitals, other places of medical care and critical public services have been able to function.
My last "Thank You" is to the staff at school who have ensured that the school has continued to be open and that learning has been able to happen.
As we say goodbye to this term and begin to prepare for the next, we all hope that the start of spring will bring our community and country new hope. We wait in anticipation for Mr Johnson's announcements after the half term holiday and hope that this will bring news of improvements nationally that will allow schools to open again from the 8th March. As a staff, we have tentatively started to make plans for this but have also kept our current offer as a contingency.
Good News
We are very pleased to inform parents that Mrs Warburton is expecting a new addition to her family in early July! Congratulations Mrs Warburton. We are currently working on arrangement to cover her maternity period and will update all of the parents in Father Millet class once these are confirmed.
World Book Day – 4th March 2021
This year, World Book Day is on Thursday 4th March.
Whether you are at home or in school, we will still be celebrating this in lockdown style! All children are invited to take part in a book-themed fancy dress. This can be as creative as you want – If you're at home, come to your morning zoom registration dressed to impress! If you're in school, come dressed for the day. Prizes will be awarded to the best costume in KS1 and KS2.
This year, we would like everyone to take part in some 'World Book Day' activities, which will all be posted on the class pages of the website. This can replace the normal 'Oak Academy' English lesson, or be in addition to, if you really want to challenge yourself! Each class morning registration will be a chance for everyone to share their costumes.
Instead of our normal group activities in English, pupils in school will enjoy a story being shared by an adult who they don't normally work with and pupils at home will be invited to join a virtual story time with a teacher in school. Please click on the teachers name to access the Zoom link for their Storytime
Zoom 'Storytime' Thursday 4th March 2021 – Please sign in promptly at 9.45am.
"Reading is like flying – it can carry you to different worlds." Julia Donaldson
Thank you, in advance, for supporting 'World Book Day 2021'.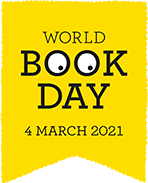 Half Term Holiday
Please be reminded that in line with government guidance the school will be closed next week and will re-open for critical worker and vulnerable children on Monday 22nd February.
As with previous holiday periods, during the half term break, children in receipt of free school meals will be entitled to food vouchers. Office staff will have contacted these families to confirm arrangements.
Keeping our community safe
Staff Testing: Staff asymptomatic testing has continued this week. Following our last test, no staff were showing symptoms of COVID. We continue to have one staff member who tested positive separate to these tests and is currently self-isolating. The staff member continues to feel they are recovering.
Holiday Infection: So that we can support NHS test and trace, if your child has been attending school over the last week and they start experiencing symptoms during the holiday, please ensure that you obtain a test for them. Please also inform the school by e-mail if this is the case. Should they test positive, we will need to take prompt action to contact any direct contacts.
Message from Wiltshire Public Health:
Families urged to keep following the rules and stay safe this half term
Wiltshire Council is urging parents, children and young people to continue to follow social distancing guidance during the half term holidays. Kate Blackburn, Director of Public Health for Wiltshire, said:
"The rate of COVID-19 cases reported in Wiltshire has fallen over the last seven days and this is largely due to the fact that local people have played their part and followed the lockdown rules.
"Next week is the school half term holiday and I am appealing to parents, children and young people to continue to follow social distancing guidance. I know this will be hard and that many children are missing their friends, but please do not be tempted to break the rules; this will help to contain the virus and so make it possible for children to go back to school and meet up with friends again in the future."
Message from Father Millett
As always, Father Millett sends his blessings to each and every one of our school community. He also asks me to remind you that he is still holding three masses on a Sunday.
Lastly, if there are any parents with children in Year 3, he would also welcome a chat to discuss and arrange their first Holy Communion meeting.
Thank you all for your patience and support. We truly value your positivity and co-operation and wish you all a safe and healthy week.
Yours sincerely,
Paul Bacon