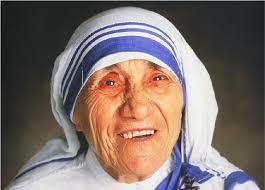 Welcome to 'Mother Teresa' Class
Welcome to Mother Teresa class who are a positive, resilient and 'go-ahead' group of Year 5 children.
Class Teacher: Mrs Johnson.
Teaching Assistants: Mrs Hughes
We aim to provide an engaging curriculum which excites and motivates the children in their penultimate year of primary school. It is key that we are further developing the vital skills of reading, writing and maths. We hope that the exciting topics within the wider curriculum that we have chosen will inspire and engage your children at home and school. Discussions in P.S.H.E. and R.E. encourage the children to think more deeply about personal and social issues and highlight the importance of well-being at this age.
In preparation for the transition from primary to secondary education, we have had opportunities for taster-days and half-day workshops at local secondary schools.
During the year, parents have attended our class mass, Christmas celebration service and our class assembly. The children presented their RE and space topic learning through song, research, story-telling, prayer, D.T. Art and I.T. skills. Termly newsletters keep parents informed about current topics and up and coming events.
We encourage the children to develop a growth mind set: to be resilient, determined, flexible, and curious by using practical resources and IT to support their learning. Additionally, they are encouraged to develop their verbal communication and team work skills in every area of the curriculum.
Mother Teresa Class are enthusiastic learners and a real pleasure to teach.