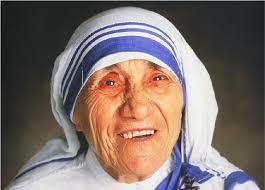 Welcome to 'Mother Teresa' Class
Welcome to Mother Teresa class who are a positive and resilient group of Year 5 children.
Class Teacher: Mrs Ann Johnson.
Teaching Assistants: Mrs Smith, Mrs Keane and Mrs Thomason.
On our return to school in September, the Recovery Curriculum helped the children to appreciate the many changes we have all been through during 2020, both at school and at home. We discussed and shared our experiences, and celebrated the different ways in which the children had been learning during 'lock down'. This academic year is full of new beginnings, with Covid precautionary measures part of our normal routine. We are all playing our part in keeping everyone as safe as possible. Mother Teresa class have warmly welcomed some new children to our class and school community.
In term 1 we learnt about the Groovy Greeks in History and The Earth in Space in Science. The term ended with a DT sewing project to design and make a Greek style bookmark, and creating a wax and paint resist Greek pot art piece, based on Greek designs. We loved finding out about Philippe Petit in 'The Man Who Walked', who had amazing self belief and courage.
At St. Mary's, we aim to provide an engaging curriculum which excites and motivates, whilst encompassing our school values: love, faith, courage, aspiration, respect and resilience. In finding out about a growth mindset, the children enjoyed showing a variety of skills and teaching others too. We saw class members volunteering to show their violin playing, moon-dancing, roller blading, roller-skating, story writing, poetry, art, skateboarding and singing. We looked at how important our metacognition skills are in helping us to make the most of opportunities, and see mistakes as a means to learn - just as Thomas Edison did! Our assemblies and PSHE times are rich experiences in helping the children to have the time to reflect, engage, imagine and learn more about themselves and others.
In term 2, our class book incorporates AI and data protection in the story 'Robot Girl'. We look at the benefits and dangers of e-safety and keeping ourselves safe, whilst using modern technology. In our Creative curriculum in Geography, we begin by exploring the physical features of weathering, erosion and coastal features, before a unit of science about Light. Further details of our class learning can be found on the newsletter and curriculum map below. In week 1 this term, the children enjoyed investigating how chemical and physical erosion occur by doing some investigations.
I am delighted with how the different members of Mother Teresa Class have come together as a class, and shown great motivation in their learning. They are, without exception, enthusiastic learners and a real pleasure to teach. They enjoy the weekly reading raffle prize draw to win some stationery, by reading three times at home with an adult. They are learning to play rugby on the school field, passing the ball backwards to their team, and intercepting the opponents ball too.
In week 2, the LEA were pleased to see the children's maths learning in action. Some were demonstrating their maths thinking skills on the easle to the rest of the class. Our English learning wall celebrates examples of the children's writing skills which others can learn from.
Should any children need to access the Blended Learning because they are unable to attend school, please look at our Home Learning Page. This is updated each week and can be done in connection with the normal homework set each week. If you have any questions, then please email me on: ajohnson@st-marys-pri.wilts.sch.uk
The year 5 children have been researching about the Earth and other planets in our solar system by using the i-pads. They recorded their information on a poster.