From the start of this academic year, the government has stated that COVID-19 has now become a virus that we must learn to live with and that there is an imperative to reduce the disruption to children's education. The following summary aims to highlight arrangements that will change, remain or be modified from previous years.
As with all arrangements linked to COVID-19, the government guidance can change and as a school we will always be responsive to this.
Changes from the start of the academic year:
We will no longer operate a "Bubble" system or have strict measures on how classrooms are organised or children mix. This means that classes and year groups will mix at play and lunch times and that we will come together as a school for worship, singing and other events.

Children and double vaccinated individuals are no longer required to self-isolate if they are identified as a close contact of a person with COVID. This means that there is no reason for children or double vaccinated staff to be absent from school if a member of their household or close contact has COVID. It is advisable for children and staff to obtain a confirmatory PCR test if they are a close contact but there no requirement to self-isolate while waiting results.
This means we will avoid having to close bubbles or ask staff to teach from home whilst they are self-isolating.
Things that remain from the start of the academic year:
Staff and families must continue to follow current guidance with respect to Test and Trace. If a staff member or child has a positive lateral flow test or becomes ill with COVID symptoms they must obtain a confirmatory PCR test and self-isolate. They must follow Test and Trace guidance.
The school and school staff will continue to:
Have access to routine self-testing and reporting of lateral flow tests and act on these as appropriate.

Ensure routine hand and surface hygiene.
Maintain high levels of ventilation in working and social areas.

Maintain an awareness of social and physical distancing where applicable and appropriate. This will also include considering ways to ensure the safe movement of pupils between sessions and avoiding having children contained in low ventilated or confined spaces.

An awareness colleague's and children's health and wellbeing across the day. This means that we will still contact you if your child presents with common COVID symptoms and ask you to obtain a confirmatory PCR test and follow public health advice. The school is authorised to insist that a child or staff member remains at home if we feel it is necessary to protect others from infection.

Maintain our capacity for remote education if children or staff have to work from home. This is particularly relevant for individuals who test positive for COVID but are not significantly unwell or have no symptoms at all.
Things that will be modified from the start of the academic year:
Staff are encouraged to manage their own personal wellbeing and that of others through their actions. This means that staff can:

Continue to wear a face covering if they choose to do so.

Request that they meet with other staff, visitors or parents in larger more well ventilated spaces.

From the start of the year we will continue to remain vigilant to the spread of infection and will continue to monitor case rates in the locality and region. To support this we will:

Be prepared to step up measures and will follow PHE guidance on reintroducing bubbles, closing bubbles or reintroducing mandates on Hands / Face / Space.

Only hold gatherings of multiple parents / families where necessary and will where possible do this outdoors or in a very well ventilated space. If a meeting is held in a classroom, we may ask those attending to wear a face covering. This is in line with the government recommendation that coverings are worn in enclosed or crowded spaces or with people you don't normally meet.
As has always been the case, keeping the school open and functional remains our priority. The key to ensuring this, is that staff are healthy and able to attend school. For this reason, if your child is genuinely unwell (with any illness), please keep them at home so that we can limit the spread of all illnesses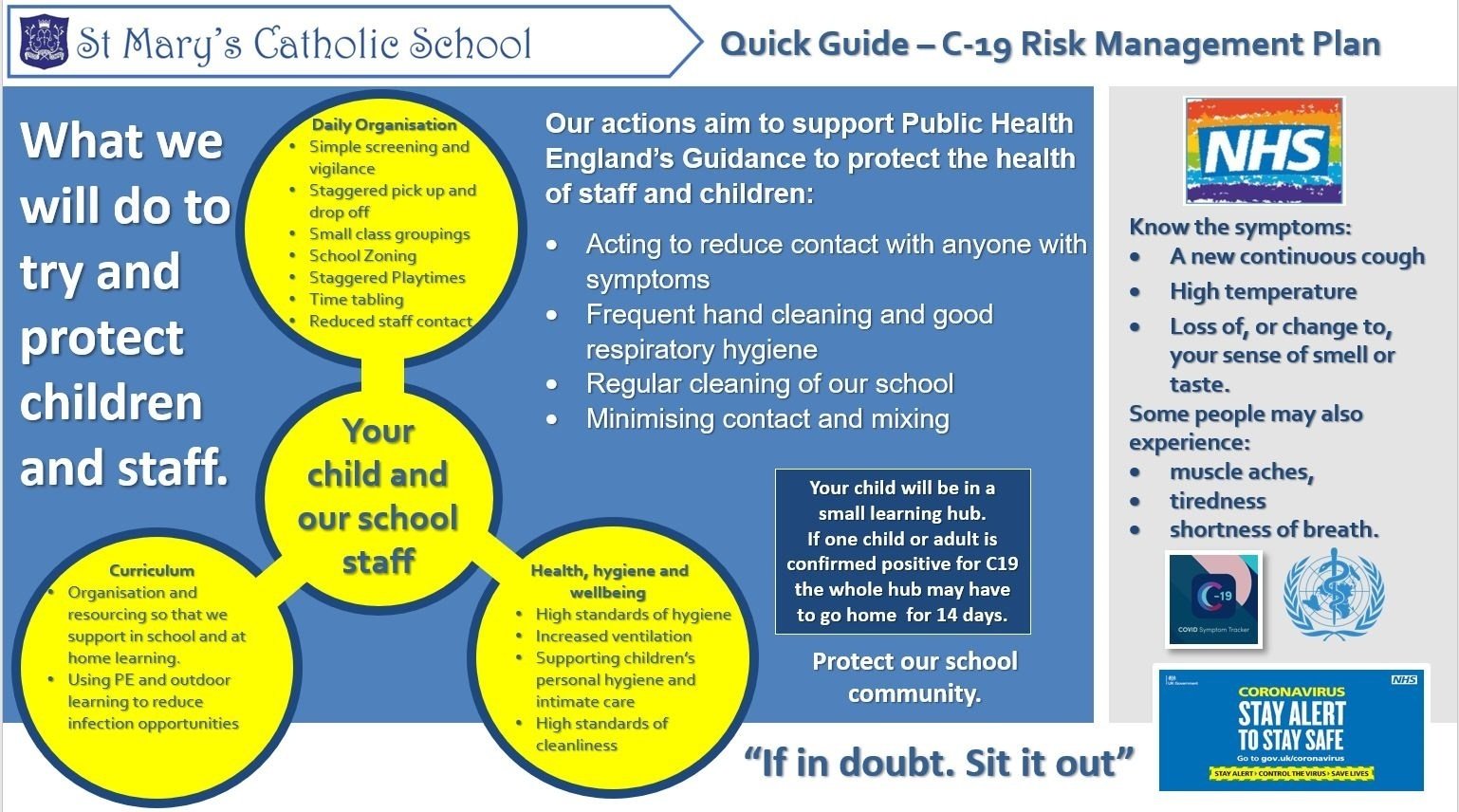 | | | | | |
| --- | --- | --- | --- | --- |
| COVID-19 Risk Assessment | COVID-19 Risk Management Plan | Daily Arrangements and school opening | Recovery Curriculum | Blended Provision |
| | | | | |