COVID-19 Management - Parent Information Page
(Lockdown and school partial closure)
Following the Lockdown announcement on Monday 4th January 2021 the school is only open only to vulnerable pupils and pupils of parents whose work is critical to the C-19 response or EU transition.
Government guidance states that only one parent needs to be a Critical Worker – but a school place should only be taken if required (i.e the parent is actually attending work and the family has exhausted all alternative childcare options).
All families are asked to limit school attendance unless absolutely necessary. The new variant of COVID-19 is 50 – 70% more contagious.
Not sending your child to school helps reduce contacts, reduces the likelihood of transmission and protects our school community and the NHS.
Our provision of places will be kept under constant review.
Our protective measures mean we can manage risks but not prevent infection.
Do not send your child to school if they are unwell or a member of your family has C-19 symptoms.
Ill children attending school will significantly compromise our offer and ability to meet the needs of other families.
This remainder of this page contains details of the school's plans and actions to keep the school safe and support on line learning and blended provision. Everyone is encouraged to read and digest these documents.
With respect to all of the above, these plans are current at the time of writing.
A week is a long time in "COVID Time" and much can happen between now and the end of any week. Our plans are subject to changes in government guidance and more importantly, the school having the staff and resources to enact them.
In support of the school's response to COVID-19 and our partial closure please click on or scroll down to view or find:
Our presentation on blended provision from the start of Term 3, (January 2021)

An info graphic that summarises our Risk Management Plan and what happens if someone is unwell

Links to updates of the school's COVID-19 Risk Assessment and management plan

Our latest communication about school opening. There are some changes in this so please do read this information.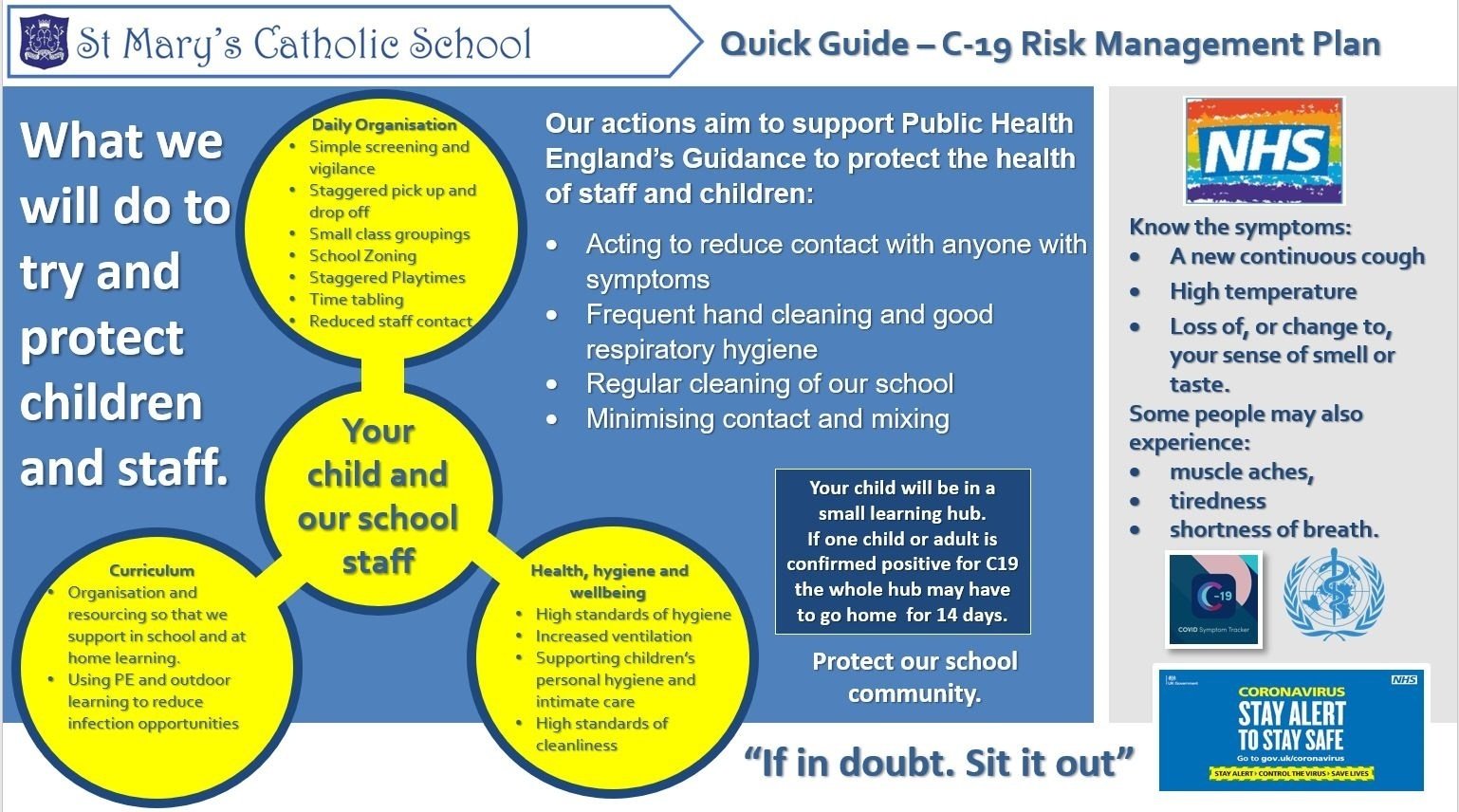 The following icons provide links to the school's documents linked to school re-opening and ongoing management linked to COVID-19.
| | | | | |
| --- | --- | --- | --- | --- |
| COVID-19 Risk Assessment | COVID-19 Risk Management Plan | Daily Arrangements and school opening | Recovery Curriculum | Blended Provision |
| | | | | |